Welcome to another episode of Kunes Car Convos! Today, we pair the brilliance of the 2023 Nissan Armada with the heart and mission of First Tee Quad Cities, as Tony Tucker from Kunes Nissan of Davenport interviews their Executive Director, Sara Cross.
2023 Nissan Armada: Luxury Meets Practicality
Dive into the comfort of the 2023 Nissan Armada. The perfect vehicle for families and athletes alike, this SUV boasts an 86.2" x 63.4" cargo space, ensuring ample room for all your needs. Enjoy the first two rows' 40" legroom, relax on premium leather-appointed seats, and engage with the latest in vehicular technology, including wireless CarPlay. And for the little ones? The Tri-Zone Entertainment System ensures a delightful journey every time. It's luxury, redefined.
About First Tee Quad Cities
First Tee Quad Cities is more than just a golf program. They believe in crafting learning experiences that embed character development and life-enhancing values within the game of golf.
Their mission: "To impact the lives of young people by providing learning facilities and educational programs that promote character development and life-enhancing values through the game of golf."
First Tee Quad Cities: Building Character Through Golf
Sara Cross, the Executive Director for First Tee Quad Cities, shed light on the challenges children face in 2023. Amid concerns of social isolation, First Tee offers a breath of fresh air, literally and metaphorically. By merging golf with life skills, they aim to shape well-rounded individuals ready for the future.
Sara highlighted that golf naturally teaches character-building values such as honesty, self-confidence, good judgment, and sportsmanship when asked about their approach. It's not merely about swinging the club; it's about instilling these core values in daily life.
Sara's pride shines when she talks about shy kids who, in just six weeks, become confident and joyful. She strongly believes that sports not only develop athletic skills but also prepare children for various challenges in life.
For those of you who want to try golfing for the first time, Sara's advice is simple: be patient, take lessons, and above all, enjoy the process. With over half of all golfers seldom breaking 100, the goal isn't perfection—it's progress!
First Tee's Growth and Future Aspirations
Expansion is on the horizon for First Tee Quad Cities. Their new facility, Iron Tees, set to open its doors in Winter 2024, promises more opportunities for children and coaches alike. Sara spoke passionately about the opening of the Highland Springs Clubhouse, an event that doubled their enrollment and highlighted their significant impact on the community.
Kunes Auto Group & First Tee Quad Cities - A Match Made in Community Service
Kunes Auto Group believes in taking care of its employees, customers, and the broader community. We don't just sell cars; we facilitate community development and individual empowerment. Partnering with First Tee Quad Cities allows us to further our mission of giving back.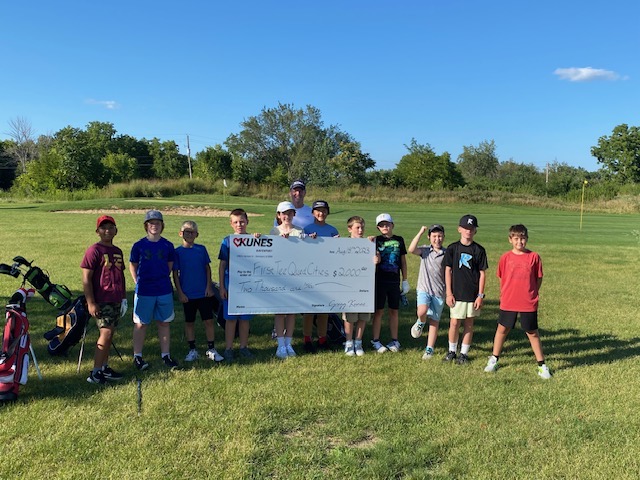 The Kunes Family Foundation supports charities on local, national, and international scales. We encourage every team member to engage with organizations that align with our mission, and First Tee Quad Cities is a testament to that alignment. Our donation towards First Tee Quad Cities is all about helping young people and making our communities better.
As we move forward, we're excited to see the positive ripple effects of this partnership throughout Davenport and beyond. Together, we are sowing the seeds for a brighter, stronger, and more interconnected future.
Want to get involved or learn more about First Tee Quad Cities? Visit their website to learn more, click here.
Let's drive character development, one swing at a time!